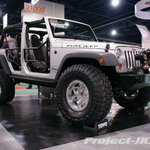 Hey everyone, it's day one of SEMA 2006 and it's absolutely nuts here.  But then, when isn't it, right?  Anyway, I just got done walking about half the Off-Road hall and took a quick spin through Wheels & Tires to see the MOPAR display all I can say is WOW!!  No joke, there are way more decked out Jeep JK Wranglers here than even I thought there would be and most are simply drop dead gorgeous.
Fortunately or unfortunately, I have taken over 500 photos and I can't upload them all right now but if you'd like to see a sample of what's to come this evening, click on the link below:
More to come soon,
Eddie
UPDATE: 11/01/06 – 11:00 AM PST
395 Photos have just been added to Day 1.  Click on the link above to see all the new Jeep JK Wrangler pics!