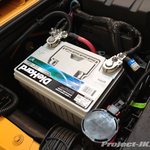 So, for some reason, Jeep decided to change the type of battery they use in the Jeep JK Wrangler from a Group 34, which was used in 2007-11, to a Group 91 which is now used in all 2012's and I presume, on up. While this really shouldn't be that big of a deal, the terminals on a Group 91 battery are opposite to those on a Group 34 and, this makes it near impossible to hook up the leads or, at least not without having to do some modifications. Of course, as luck would have it, a Group 91 battery or it's equivalent, a Group 48, isn't really a common size you find in a deep cycle format and unfortunately, not something that's available in a Sears Diehard Platinum, Odyssey or even Optima.
Being that we have a winch on our 2012 JK and that we like to carry around our ARB Fridge Freeze with us on the trail, installing a deep cycle battery was pretty high on our to do list and, after doing some research, this is what I found.
Pulling out the factory battery, I noticed that there was a plastic spacer installed that I can only guess is designed to help the battery from sliding around…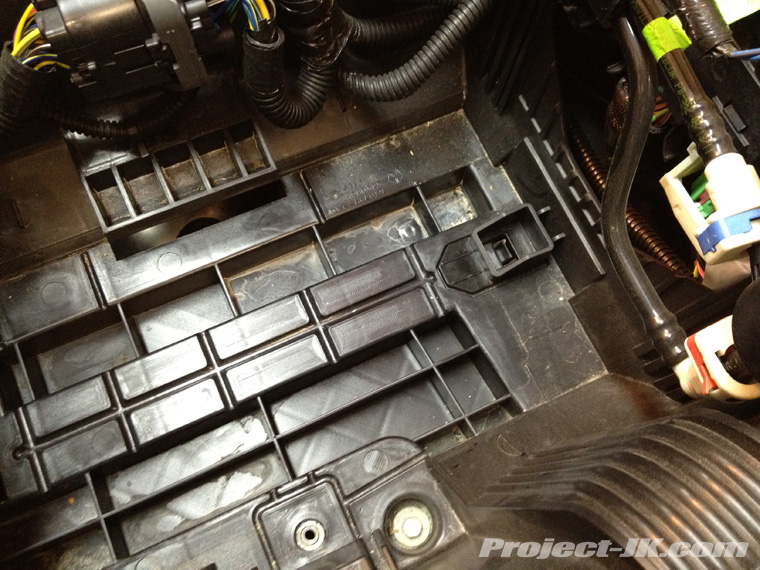 Having said that, this spacer was pretty flimsy and had a push tab that allowed it to be removed as shown…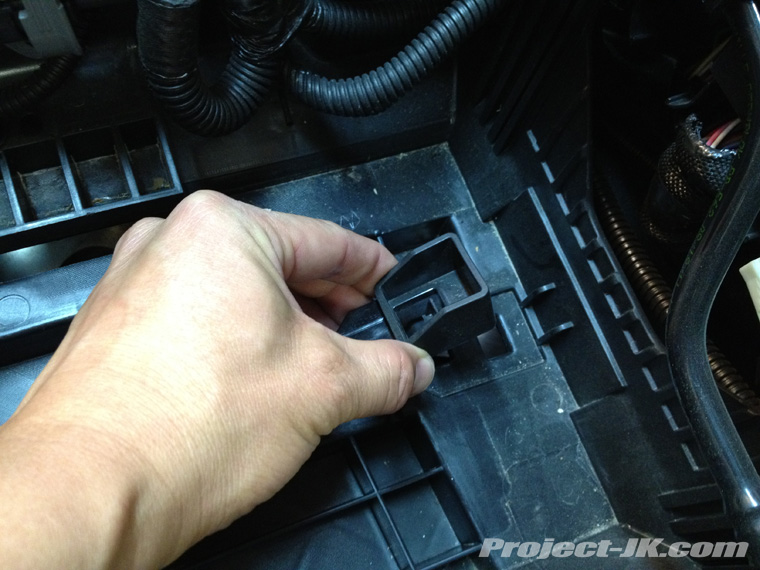 As you can see here, with the spacer removed, you can easily fit a 13″ long battery…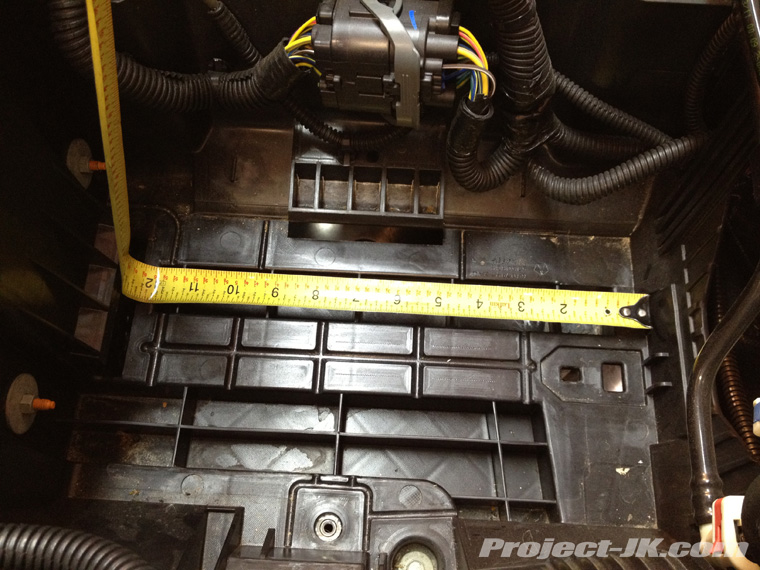 With a 13″x7″ base, I had originally considered installing a DieHard PM-1 Group 31 Marine Battery which is that exact measurement but, as I would soon discover, it doesn't come with a footing and so, there was no way to secure it down with the batterFortunatelyp.
Fortuantely, the Sears DieHard P-5 Group 35 battery does have the base footing and could be secured without any problems using the clamp…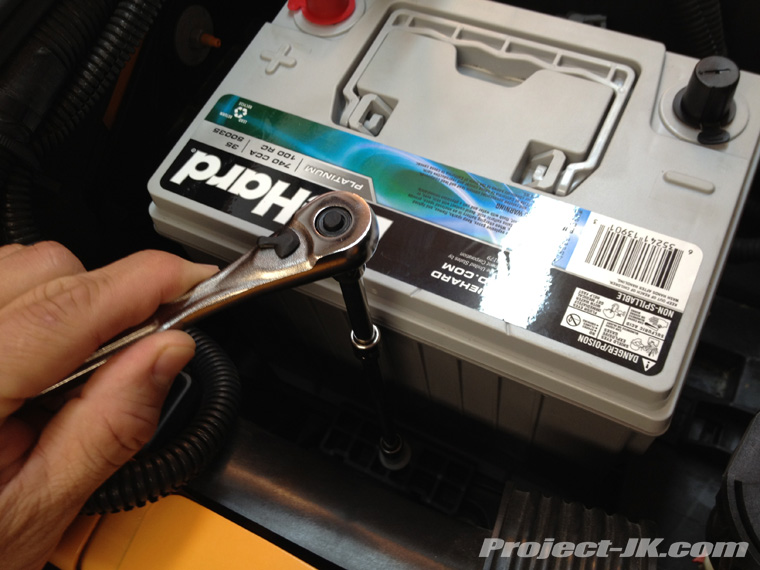 While the Group 35 is just on the short side in terms of length, the clamp does seem to do a good job of holding the battery in place…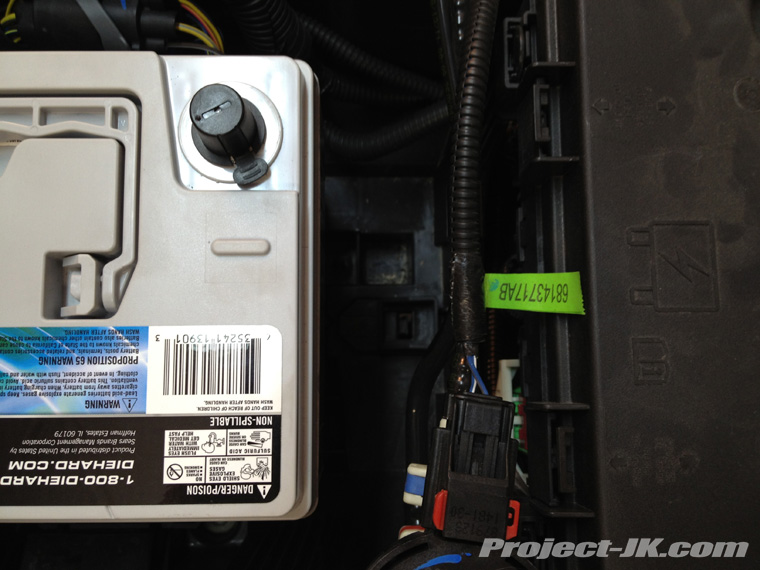 Shot of what it looks like installed. As you can see, the battery fits great and is a nice deep cycle improvement over the factory unit and one that has 140 more cold cranking amps and a 100 min reserve capacity…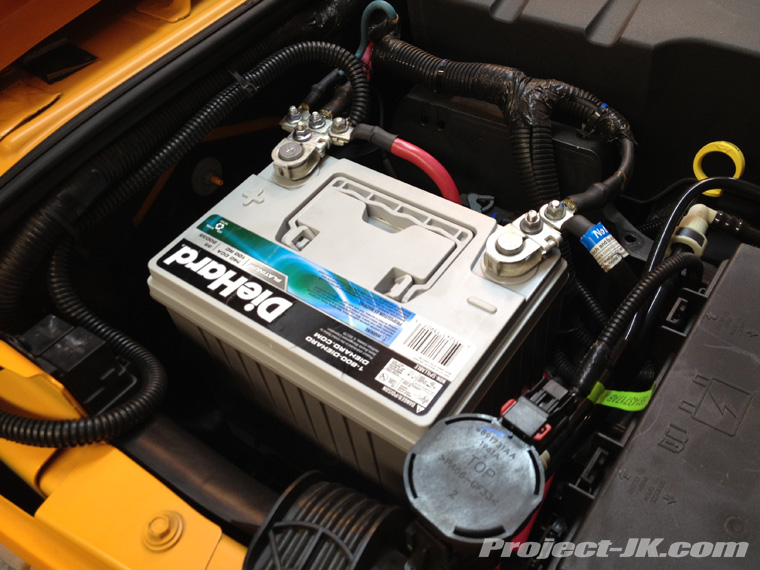 If you've got a 2012 JK and are in the market for a good deep cycle replacement battery, I would highly recoPlatinumetting a DieHard Platnum P-5. While they are pricey, they are essentially repackaged Odyssey Batteries and worth every penny. I've run Optimas in the past and have since found these are a much better option.