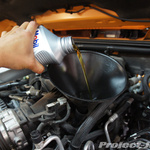 Changing your engine oil is a necessary part of routine maintenance and really, it's something that anyone can do. In fact, thanks to the design of the all new 3.6L V6 Pentastar engine, it's something that easier to do than ever before. This short write-up will explain in detail what all is involved and just how little you will need to do. And, after you done this on your own, I can almost guarantee that you'll never take your Jeep back to your dealer or a shop to have it done for you again.
What you will need
• 13mm Socket
• Ratchet
• Crescent Wrench
• Small Flathead Screwdriver
• Oil Catch Pan
• Funnel
• Oil Filter Media
• 6 Quarts 5W30 Oil (meets or exceeds MS-6395)
• Empty Milk Jug
• Paper Towles
Brands & Part Numbers
The new 3.6L V6 Pentastar engine does not use a traditional can style oil filter but rather, uses a disposable filter media that is installed into the top of the engine. This makes changing your oil super easy and without any additional mess. The following are 3 different brands along with their part numbers that you can buy including one from your dealership:
• Mopar #68079744A
• STP #S10955
• WIX #57144
As far as oil goes, you can use traditional dino oil in your engine but, you need to make sure that meets or exceeds MS-6395 standards.
Instructions
Here's a shot of everything you will need to change the oil in your 2012 Jeep JK Wrangler. As you can see, you will need 6 quarts of oil, a new filter media, some tools and a means to collect your used oil.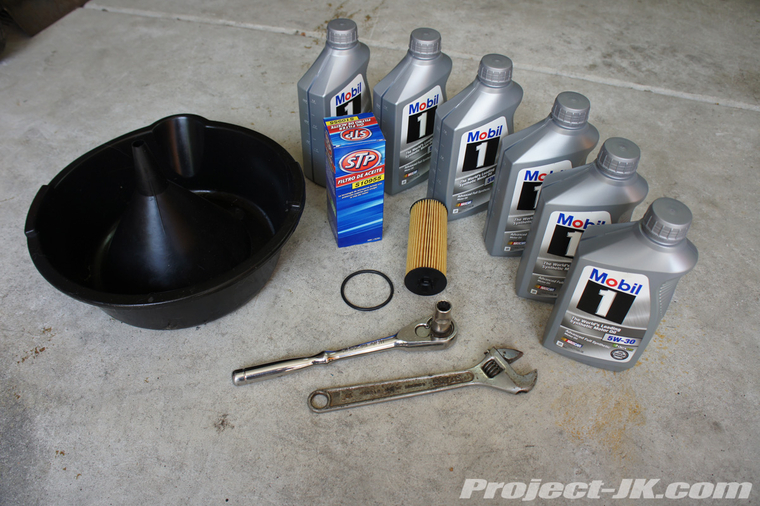 1. Your engine cover is just snapped in place and to remove it, simply grab and lift it up as shown.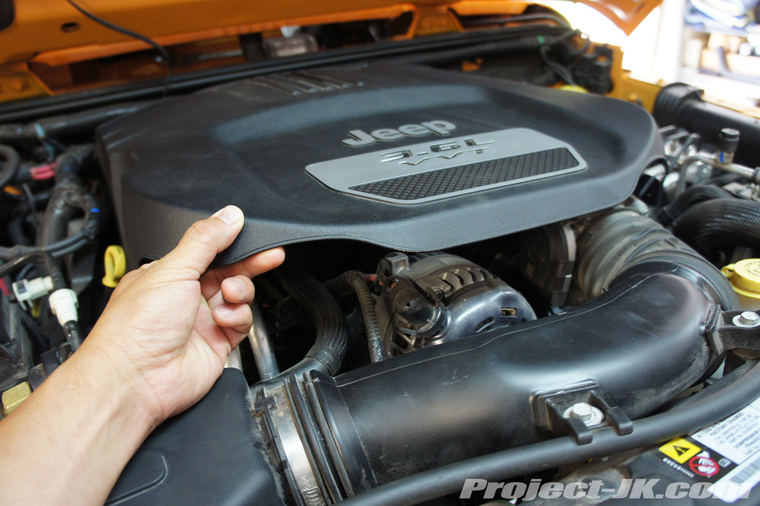 2. Located the engine oil filler cap and rotate it counter clockwise until it stops. Do not remove the cap at this time.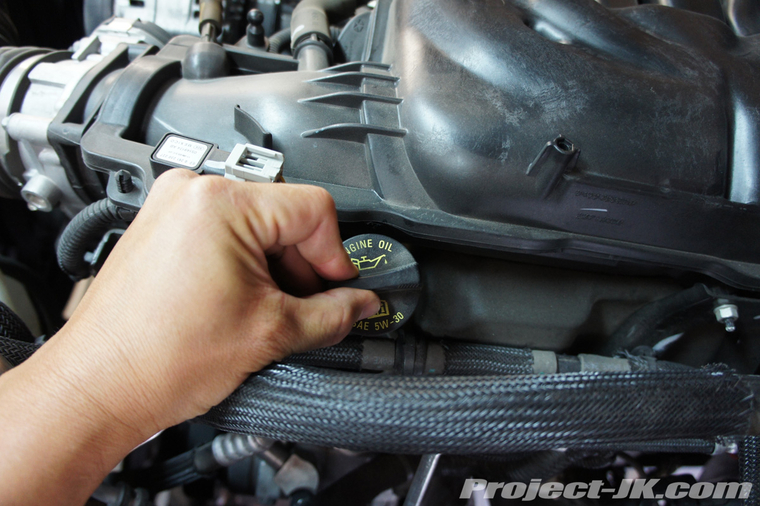 3. Climb under your Jeep and place an oil catch pan under the oil pan. Then, using a 13mm socket, loosen but DO NOT remove your engine's oil pan drain bolt.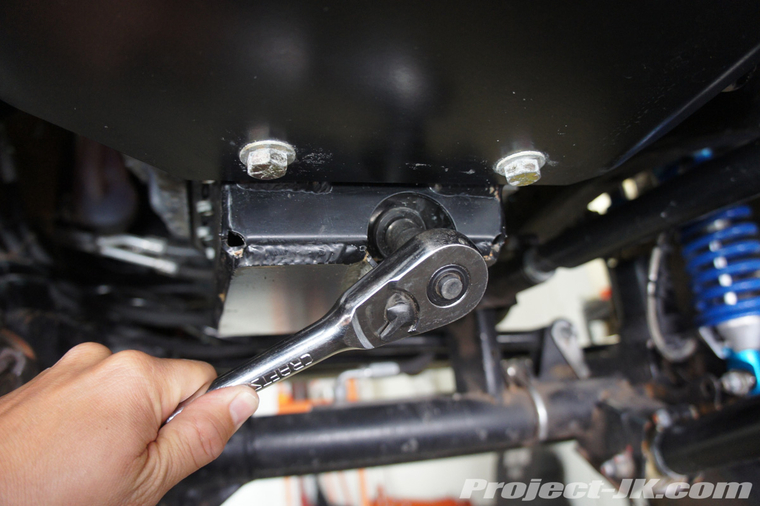 4. Using your fingers, carefully remove the drain bolt and allow the used oil to drain completely.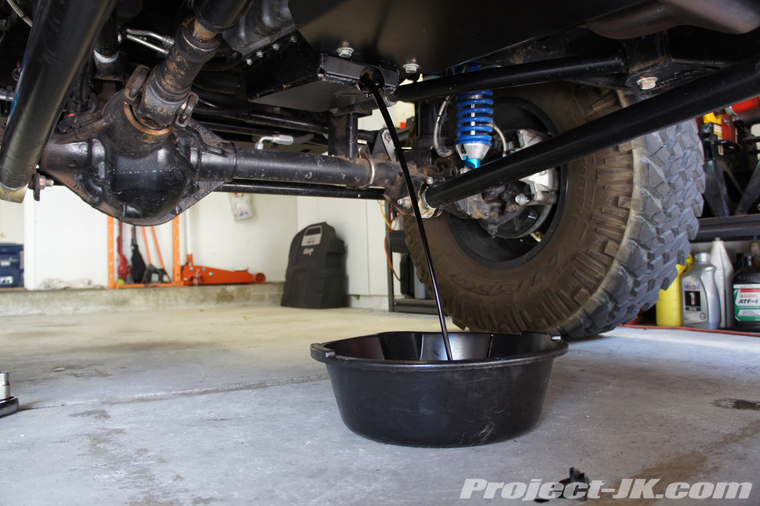 5. Once completely drained, reinstall the drain bolt using a 13mm socket.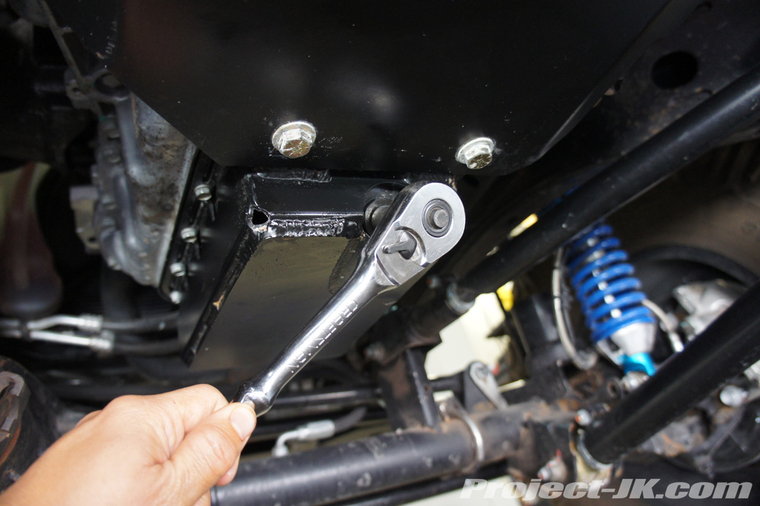 6. Back up on top, locate the oil filter cap and use a crescent wrench to unscrew it.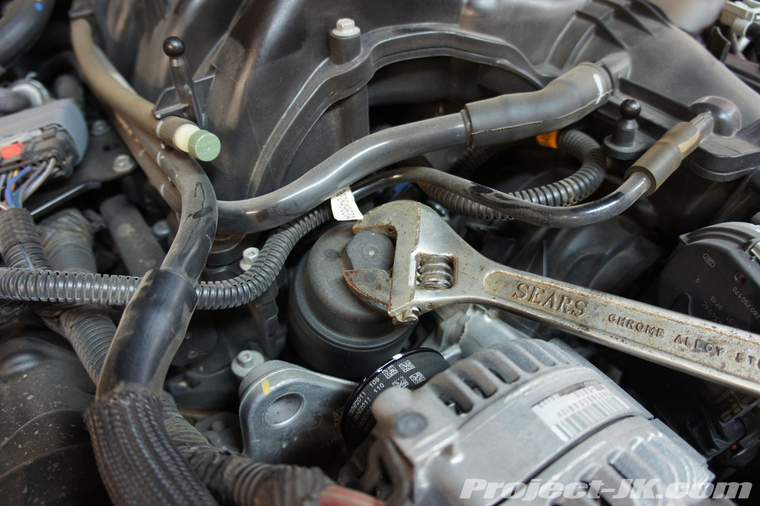 7. Carefully remove the filter cap with filter media attached as shown.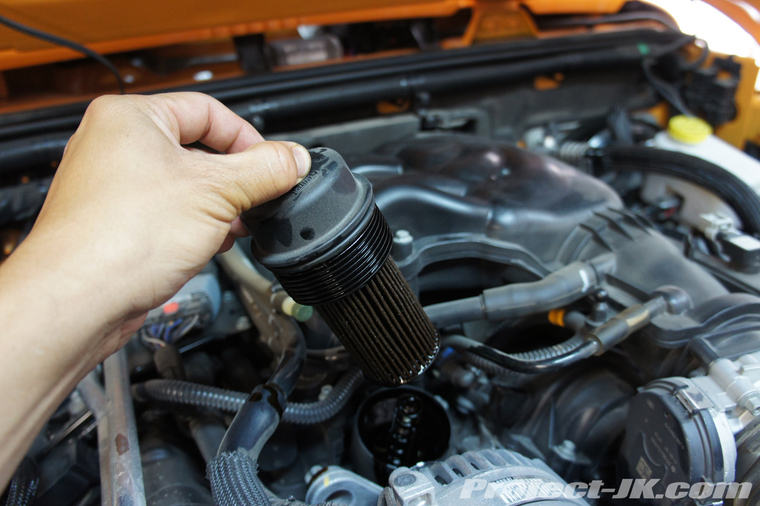 8. Firmly grab the filer media and pull it off of the filter cap as shown.

9. Use a small flathead screwdriver to carefully pry off and remove the rubber O-Ring installed on the filter cap.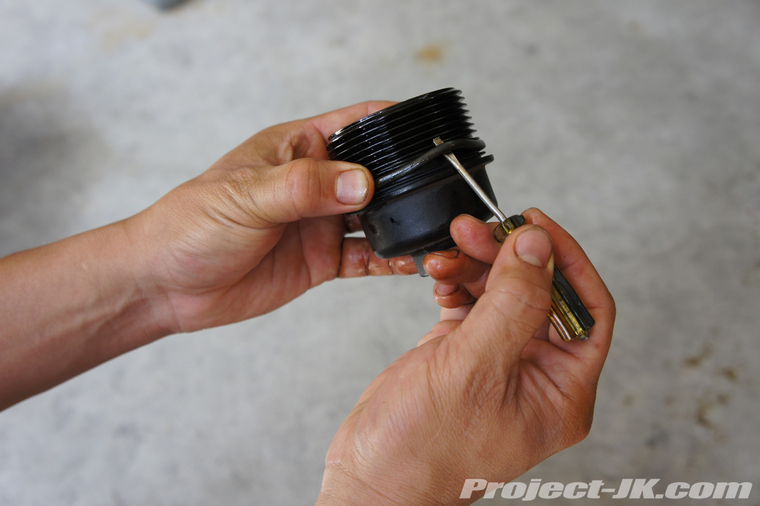 10. Take the new O-Ring that came with your new filter media and apply some of your old engine oil to it.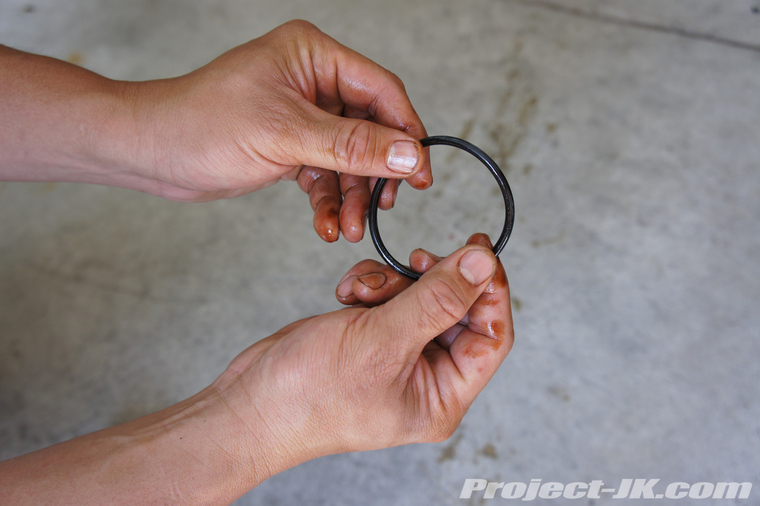 11. Install the new O-Ring onto your filter cap.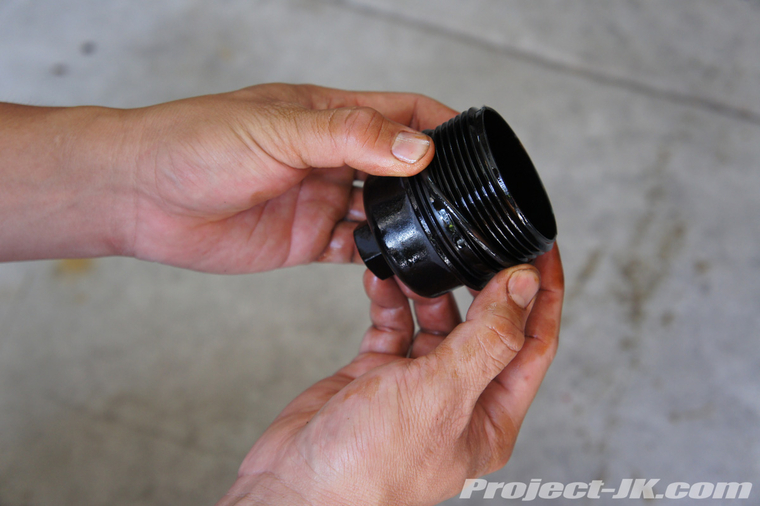 12. Install your new filter media onto the filter cap by pushing it in to it until it snaps in place.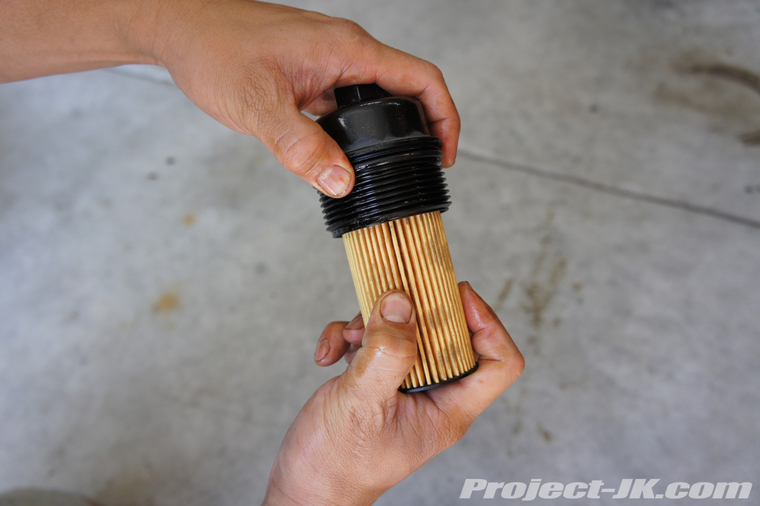 13. Carefully reinstall your filter cap with new filter media attached back into the top of your engine.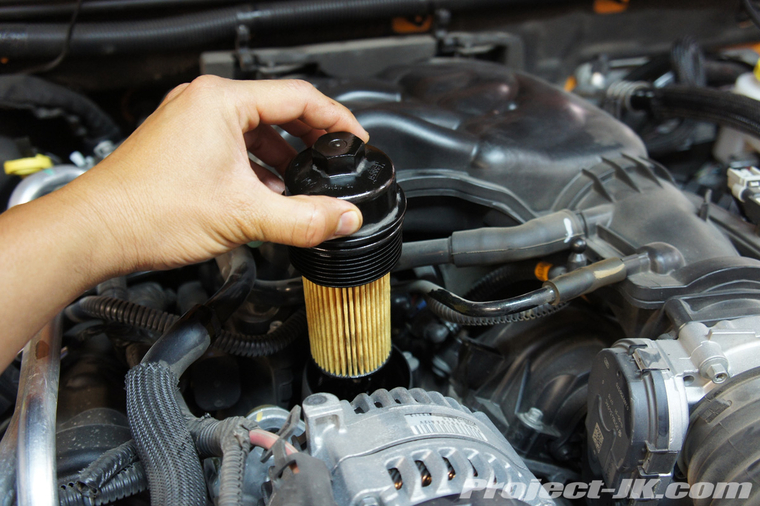 14. Using a crescent wrench, carefully tighten the filter cap back in place. Please note that this cap is plastic and will break so make sure to NOT overtighten it.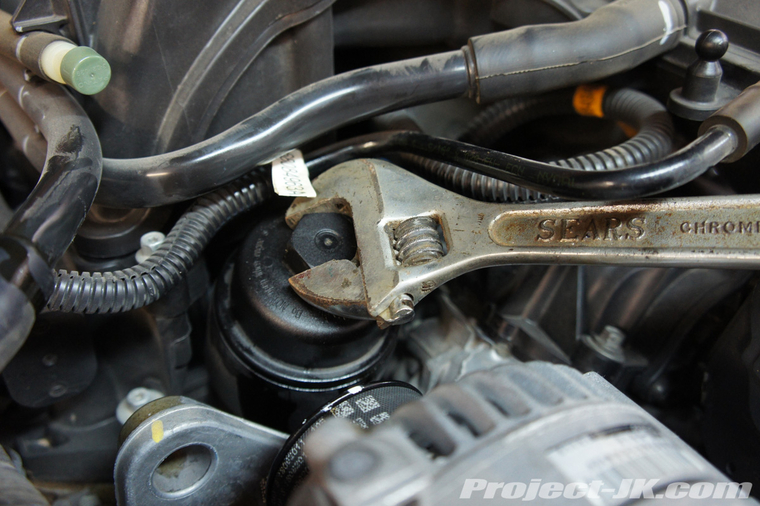 15. Remove the engine oil fill cap.

16. Insert a funnel into the fill hole and pour in 6 quarts of oil.

17. Reinstall your engines oil fill cap.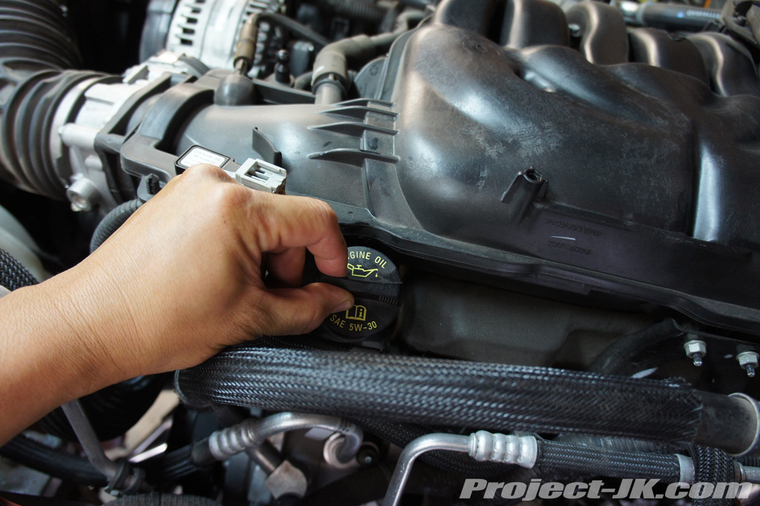 18. Reinstall your engine cover by snapping it into place.

19. Assuming you've been having your "Change Oil" indicator light turn on your dash, this is what you will need to do to turn it off:
1) Turn your ignition to the ON position but, DO NOT start your engine.
2) Push in your accelerator pedal to the floor 3 times.
3) Turn your Ignition to the OFF position.
That's all there is to it. As mentioned, super simple and easily something that anyone can do. Please be sure to clean up your mess and take your used oil to a recycling center. Most autoparts store such as PepBoys, Kragen/Checkers will take your used oil free of charge. Please let me know if you have any questions. 😎