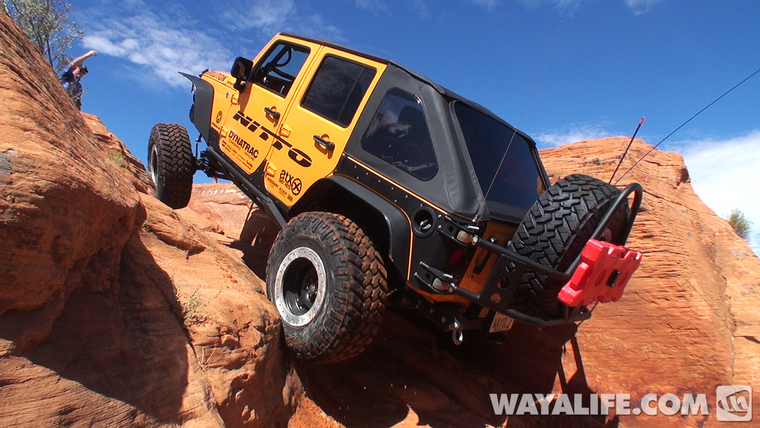 When we bought our 2012 Jeep JK Wrangler, we had always planned to upgrade it's axles to a set of Dynatrac ProRock 60's. Of course, being that money doesn't grow on trees, we decided to use the time until we could afford the upgrade to extensively test just how well a set of 37″ tires would do with the new 3.6L Pentastar motor running factory 4.10 gears. For almost 2 years, we took our Jeep just about everywhere we could, driving it to and from the trail, on the highway and around town, up and over mountains, hard and fast through the Mojave Desert, up and over steep ledges in Moab and, crawling it over big rocks on trails like the Rubicon. And, after racking up over 45,000 miles on the odometer, what I can tell you is this… it can be done and it does work surprisingly, okay. For someone who's never driven a re-geared equivalent, they may not even know what they're missing.
Having said all that, recent circumstances forced us to upgrade our front axle sooner than we had planned for and, while we were at it, decided to just bite the bullet, take advantage of Off Road Evolution's $999 special and have our Jeep re-geared with a set of 5.13's at the same time. After testing them out extensively on the 2013 JK-Experience, all I can say is – why in the hell didn't we do this sooner!!
While the 3.6L motor has a good amount of power and will do a decent job of compensating for larger tires, it simply can't make up enough of a difference especially in situations like on long or steep hill climbs. Here, your transmission will try to help make up the difference by dropping gears and running your RPM's up close to 6 grand just to keep you moving. Of course, this will cause your engine and transmission to run really hot and in some cases, cause your Jeep to go into limp mode – ask me how I know. With a set of 5.13's, this will no longer be an issue as you'll have plenty of power to do the same job in a higher gear and running at a lower RPM. Of course, this is to say nothing about the fact that on the rocks, a set of 5.13's will also significantly improve your crawl ratio – running 37″ tires on 4:10 gears, you'll go from a 3.36:1 to a full 4.21:1! Of course, for those would might complain about the increase in RPM at highway speeds, what I can tell you is that it's really insignificant. In fact, the difference you'll see when compared to a stock Rubicon running 32″ tires and 4.10 gears is only about 200 RPM as you can see in the calculators below:


Trust me, if you're planning on running 35″, 37″ or bigger tires on your 2012-Up JK, you really will be doing yourself a BIG favor to get it re-geared at the same time. If you live in the SoCal area, be sure to take advantage of Off Road Evolutions $999 special too as it really is a deal that is hard to beat.