Hey everyone, I just wanted to let you all know that EVO Manufacturing has just completed the development of their all new Jeep JK Wrangler, EVO MFG 4″ DoubleD JK Bolt On Long Arm Kit. To help kick off its big release, they will be giving one away to one very lucky member here on JK-Forum.com AND, if that weren't enough, Off Road Evolution is even including the installation of it at their facility in Fullerton, CA!!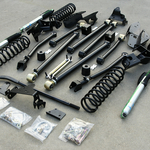 EVO MFG 4″ DoubleD JK Bolt On Long Arm Kit
EVO MFG has proven to be a leader and innovator in suspension performance, creation and engineering. The EVO MFG 4� Bolt-On Long Arm Kit for the JK will certainly prove to land at the top. This system was specifically designed to enhance and surpass the overall handling on and off road of the JK. EVO has taken into account many of the factors that compile an ultra high quality and performing system. On and Off Road achievements include High Ground Clearance achieved though sleek bracketry. Greater articulation is achieved through smooth plush ride coil rates, long travel shocks and optional bumpstop heights. Increased stability is achieved through specifically tuned coil rate/shock rates, rigid and adjustable swaybar linkages and optimized roll center corrections both front and rear. The result of the EVO MFG 4� Long Arm kit is a vehicle with unsurpassed handling under all circumstances, whether your traveling on the highway or combing the Rubicon Trail, rest assured you will be satisfied with this dominant suspension system.
Features:
• EVO1 Adjustors, Full on car adjustability of control arm length, no need to remove control arm to adjust
• Complete Bolt-On Installation, Weld-On if desired, welding will not void warrantee
• No need to remove the gas tank to install
• Proven Currie Johnny Joints
• Ability to retains factory high clearance transmission crossmember
• Optimum Roll Center Correction both front and rear
• Engineered to handle up to a true 14� of Vertical Wheel Travel
• EVO 4� Plush Ride Coil Springs
• Complete with EVO MFG Drag Link Flip Kit, Steering
• All Control Arms fully compatable with EVO Ultra High Clearance Long Arm system used with the EVOLever
Notes:
2010+ models require exhaust modification which requires some welding
Cutting and Drilling Required for Complete installation
Can be installed as a weld on if desired
Available with 2 Different bumpstop options to specifically tune travel to your vehicle
Aftermarket wheels with 4.5� or less (smaller number) backspacing required
Optional: Add $800 for EVO ENVY Links, CNC Machined Billet Aluminum Control Arms
Retail Price: $3389.99
THE TOTAL VALUE OF THIS GIVEAWAY INCLUDING
SHOCKS AND INSTALLATION IS VALUED AT OVER
$5,000.00
For information on how you can WIN this awesome giveaway courtesy of EVO MFG and Off Road Evolution, simply click on the link below:
WIN The Off Road Evolution EVO MFG 4″ DoubleD
JK Bolt On Long Arm Kit Giveaway!!