Last week, Off Road Evolution decided to put their brand new 2007 Jeep JK Wrangler Unlimited Sahara to the test by driving it over 1,700 miles to visit family in Missouri, play hard at Disney, Oklahoma, and then drive it all the way back to their home in sunny southern California.
Now, just so that we're all on the same page here, we're talking about driving a JK Unlimited automatic that's been lifted with a Full Traction 4″ Ultimate short arm kit, is sitting on top of 37″ Toyo Open Country A/T's and is running J.E. Reel Drivelines but is otherwise stock when it comes to its drivetrain.  It's still running a stock Dana 30 front and Dana 44 rear axles, stock 4.10 gears, no lockers and it only has a 2.72:1 Command Track transfer case.  And, aside from the over-drive being rendered completely useless due to the 37's and being pulled over by a cop once just so he could get a better look at this awesome JK, Mel tells me that it drove great, rode great and even performed way better than he thought it would on and off the trail.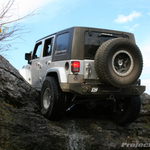 If you click on the the photo above or the link below, you will see photos that Off Road Evolution took at Disney, Oklahoma climbing a steep and tall waterfall ledge.  From what I'm told, this climb really was as bad as it looks but surprisingly enough (or maybe not so surprisingly), this JK did it all on its own power and without the assistance of a tow strap, a winch or even lockers! Granted, the PUREJEEP bumpers and rocker guards protecting his JK took a real beating, but they did exactly what they were designed to do and ultimately suffered little more than cosmetic scratches.  The funny thing is, Mel really had intended this to be a great opportunity to test out his new WARN PowerPlant winch.  But, as luck would have it, the only thing he ended up using it for was to air his tires back up once he got off the trail.
If there were ever any doubts as to the off-road prowess of the new Jeep JK Wrangler, I think Off Road Evolution has officially put them to rest.  Of course, having a trail tested Full Traction 4″ Ultimate lift, PUREJEEP bumpers and rocker guards, Toyo Open Country A/T's, J.E. Reel Drivelines and a WARN PowerPlant will certainly do wonders to help it out.
Click here to see all the Off Road Evolution Disney Pics
Eddie