Well, if there's one thing that can be said about the Off Road Impact Show in Las Vegas, Nevada, it sure as heck ain't no SEMA or even an Off Road Expo for that matter. No joke, this place looked like a ghost town by comparison and the few manufacturers that did make a showing, did so with just a fraction of the setup and crew that I'm normally accustomed to seeing. But in all fairness, maybe the show was so empty because everyone was hanging out and drinking complimentary beers over at the very cool AlloyUSA/Precision Gear Cantina – thanks for the beers Ron!  In my humble opinion, Advanstar really needs to open this show up to the public or move it more towards the summer if they hope to keep going. But hey, what do I know.
Having said all that, I will have to say that I am really glad that I did come to Off Road Impact 2007. Certainly, because there were so few people there, I was actually able to take a lot of unobstructed photos and I was able to have some real quality time talking to many of the manufacturers on display including Skyjacker, Donahoe Racing and Superior Axle & Gear. And, had I not come to the show, I would have missed seeing some great new entries into the Jeep JK Wrangler marketplace including a basic 3″ lift kit by RevTech, a 4″ lift kit by Cage Off-Road, the very first viable roof rack system by Offroad Logic/Landrunner, and a very complete leveling kit as well as a great new flat tow bar system and exhaust kit by Currie Enterprises.
Now, as far as Jeep JK Wranglers go and who had the coolest on display goes, I would have to say that Skyjacker's custom painted/upholstered Rubicon Unlimited still captures the title of being the best looking show Jeep. Of course, for those of you who see a built-up utilitarian Jeep as being sexy, that title would definitely have to go to Full Traction/Superior Axle & Gear's Silver Rubicon Unlimited with Donahoe Racing's White Rubicon Unlimited coming in as a very close 2nd place. If Donahoe Racing had a set of rock bumpers and rocker guards, it would be simply too close to call for me.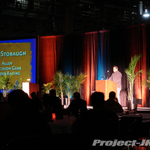 One final note I think is really worth mentioning about the Off Road Impact Show is the award ceremony they held on Thursday night which among other things honored great companies such as Currie Enterprises for being Manufacturer of the year, Donahoe Racing for having the best product of the year and last but not least, Ron Stobaugh of AlloyUSA/Precision Gear for being one of the Top 5 Most Influential people in the off-road industry for 2006 – Congradulations everyone!!
Once I get back from Las Vegas, I will try to follow up on some of the great new things I've seen here and I will be sure to share with you anything that I learn. In the mean time, please click on the link below to see all the pics I took from the 2007 Off Road Impact Show.
2007 Off Road Impact Show Photo Gallery
Eddie