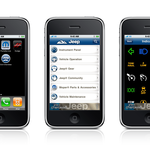 In an online press conference that was held this morning, Mr. Pietro Gorlier, President and CEO of Mopar, Chrysler Group LLC's service, parts and customer-care brand, made an announcement regarding the release of a new vehicle owner information app that can be download and installed on your iPhone for free.  While this app is currently only available for the 2011 Jeep Grand Cherokee, Chrysler is intending to make it available for all future vehicles they manufacture as well. 
So, what all can this new iPhone app do?  Well, not a whole lot more than what your owners manual or the internet can do already.  Some of the categories provided on this app include information regarding vehicle operation and maintenance, an instrument panel guide to tell you what all the idiot lights mean, vehicle features and highlights, service contracts and frequently asked questions.  On the more interesting and useful side of things, there are also categories for customer assistance which, depending on how well it works could be useful, a link to their social networking sites (Facebook, Twitter and the like) and, as if there would be any doubt, a link that will allow you to purchase parts and accessories and more.
To watch a short YouTube presentation of how this new iPhone app works, simply click on the screen below:
As mentioned, this new iPhone app will only be made available for new vehicles made by Chrysler so existing JK's will not be able to take advantage of it.  However, if you'd like to see how this app works, it will be made available for download for free in the next couple of days.