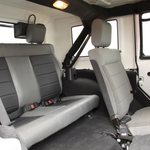 Murray, Utah- June 9, 2010. TeraFlex Inc., manufacturer of TeraFlex suspensions, body protection equipment, low range gearing and HD axles, introduces the newest component for the JK Wrangler.
The TeraFlex 3rd Seat Bracket Kit is an innovative seat bracket kit that allows JK Unlimited owners the ability to add a 3rd row seat for additional seating. This innovative seat bracket kit allows the use of a JK 2 door rear bench seat, and retains the ability to keep the fold-and-tumble functionality. The seat can also be mounted in standard front-facing or rear-facing.
The TeraFlex 3rd Seat Bracket Kit features:
• Retains and matches factory interior styling
• Retains factory fold-and-tumble feature
• Can be mounted front-facing or rear-facing configurations
• Seat can be removed without tools for cargo use
• CNC laser cut bracketry
• Durable Powder coat finish
• Some drilling, and trimming required
• TeraFlex lifetime product warranty
The TeraFlex 3rd Seat Bracket Kit has a retail price of $268.99
NOTE: JK Wrangler 2Door fold-and-tumble seat, seat belts, seat belt mounting hardware, and rear roll bar extensions are not included with this kit. Please check all local laws and ordinances regarding auxiliary seating and safety restraints.
TeraFlex products are available direct, or through authorized TeraFlex Dealers. For a complete list of Dealers in your area, or to purchase direct, contact TeraFlex at 801-288-2585 or visit them on the web, www.teraflex.biz.