In addition to the great new looks and much needed refinements made to the all new 2007 model Jeep JK Wrangler, I can honestly say that one of the things I love most about it is the fact that it can be made to ride on much bigger tires with relative ease.  In fact, I still find it hard to believe that the new Rubicon model JK's come factory with 32″ BFGoodrich Mud Terrains and that a set of 35″ tires can be made to ride comfortably with as little as a 3″ lift.  But, unless your new Jeep JK Wrangler is nothing more than a pavement princess, you're definitely going to need a set of stronger axles to go with those bigger tires.  Only problem is, this is an all new Jeep with all new parts and even though you might be able to find the tires that you want, who will be making the axles that you need?  Superior Axle & Gear will, that's who!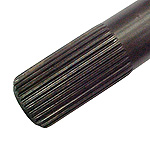 I just got word from Superior Axle & Gear that they've just completed development of their new Jeep JK Wrangler X and Sahara model Dana 44 Rear Chromoly Axle Shafts.  Made from SAE4340, these new axle shafts are induction hardened, have rotoflow spline rolling and are CNC turned for a superior finish.  Also, I've been told that the OE body profile has been modified to ensure superior performance both on and off the pavement and that these axles have been designed to absorb shock loads as opposed to breaking under them.
Now, if you're going to be in the Las Vegas area next week and have the means to get into the 2006 SEMA show, Superior Axle & Gear will have these new rear axle shafts on display there and I know they would be more than happy to answer any questions you might have.  Of course, if you can't make it to the show, be sure to check back here where you know you can find all the hottest SEMA coverage you could ever hope for.
Eddie