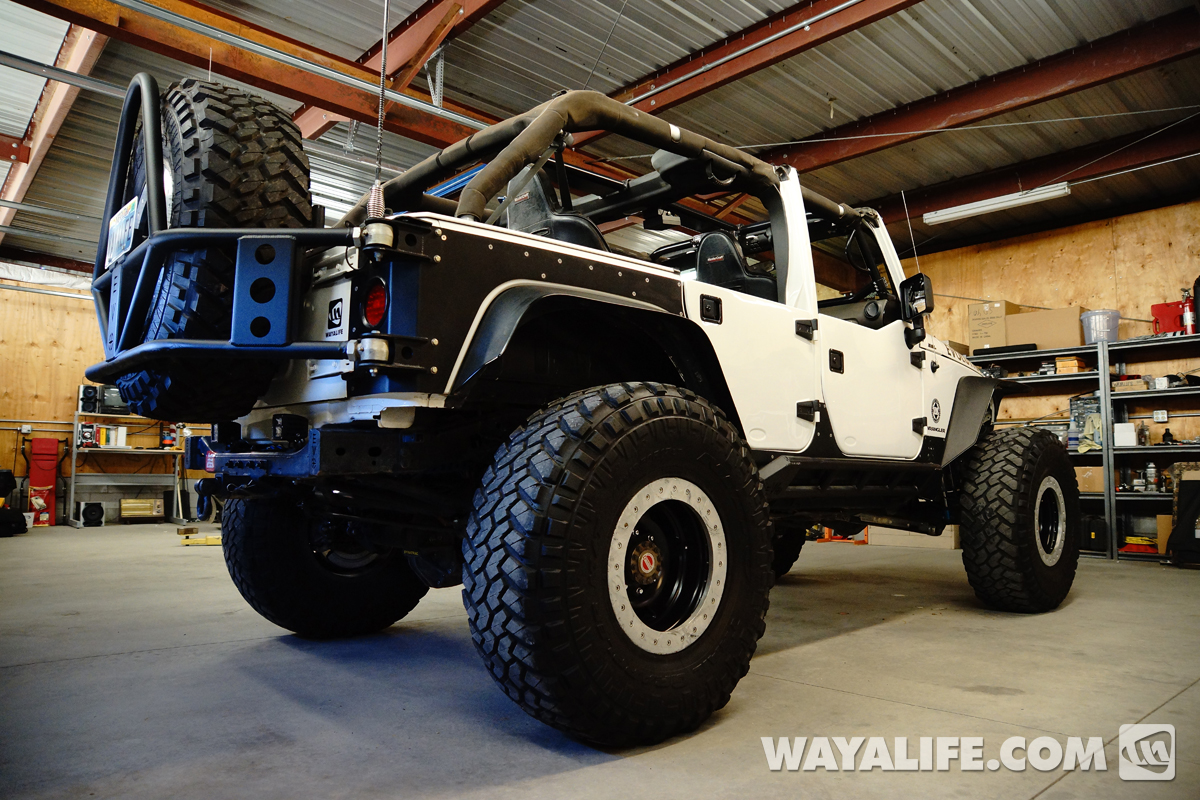 For the longest time, if you were to have asked me what I thought about half doors, I would have been the first to say that I don't like them. I mean sure, they look cool and I had even considered buying a Jeep JK Wrangler Unlimited with them on in the past but for the most part, I've never really been a fan. They let in too much noise, the window are difficult to use and really, when given the chance, I would just prefer to run doorless.
About a year ago, my friend Greg picked up a set of Rugged Ridge half doors and at the time, made a comment to the effect that, half doors were "just stupid" but that they did serve a purpose and that he could still run graphics/logos on them. More recently, during the 2014 JK-Experience, my friend Randy laid his Jeep on its side but, thanks to his half doors, you could hardly tell he went over at all. Of course, it was on this same trip that Moby took on a considerable amount of damage to both passenger side doors and, I think it was about then that I decided it might be time to finally give half doors another look.
Now, I should note that our first priority was to still find a set of replacement full doors as both Cindy and I still prefer them but, the idea would be to now leave them at home and run half doors whenever we knew we'd be playing a bit harder. Certainly, half doors would be lighter in weight, cheaper to fix or replace if needed and by their design, would offer a lot more visibility on the trail. And, after seen all the options available in person, we came to the conclusion that the Rugged Ridge JK half doors were the ones we wanted to get.
Okay, so now that we've had our Rugged Ridge half doors for a couple of months and have tested them out with and without the soft uppers, on a long trip to Death Valley and back and even in a snow storm… here's what I have to say about them.
The Rugged Ridge half doors look AWESOME!! Without question, these half doors by themselves will completely change the overall look of your Jeep, in a great way and for that alone I would recommend them. The fact that they have interior panels that have a factory feel is a huge bonus too. If you've never driven a Jeep with half doors before, you will LOVE the extra visibility that they provide on and off the trail. While the actual safety they provide is just superficial, they will help to hold things inside your Jeep while still giving you a sense of being doorless. Another benefit of having half doors is that they help to keep you warmer on cold days when driving around topless. The half doors will help keep the wind out of the cab and allow your heaters do a better job by holding in the heated air.
If you buy the Rugged Ridge half door soft uppers, I think you will find that they really add to the overall look of your Jeep as well. We run ours with a Bestop Trektop and together, I think they look outstanding. The biggest benefit of having the soft uppers is that they'll help to keep the elements out and allow you to run your half doors all year long. Now, I get people asking me all the time about how well do these soft uppers really work and honestly, what more can I say other than the fact that they are "soft uppers" and NOT hard doors. In other words, the fitment of them is less than stellar. Being made out of fabric, they will be noisy on the highway, cross winds will cause them to pull outward and they will leak a bit when it rains. Also, these soft uppers do require you to apply Velcro to the upper edge of your half doors to keep them sealed but, after paying $600 for them to be painted, we opted not to do this. Unfortunately, by not applying the Velcro, the base of the soft uppers will lift in the wind and allow a draft to come in. But, in spite of all this, they still beat running doorless and will offer enough protection to keep you somewhat dry, somewhat dust free and keep you warm or cool inside depending on whether you are running your heater or AC. Of course, the best part of these soft uppers is that they are easy to remove and light weight and that will allow you to have a doorless feel whenever you want.
Overall, Cindy and I are extremely happy with our new Rugged Ridge half doors and at only about 25 lbs. each, absolutely love the weight savings they offer over factory full or even half steel doors. While there are a few short comings on the soft uppers, we feel that they are insignificant when compared to all that we get out of them. If you are considering a set for your Jeep, I would highly recommend them.
To see a bunch of photos before and after these half doors were installed, click on the link below:
HALF TIME – Rugged Ridge JK Half Doors for MOBY