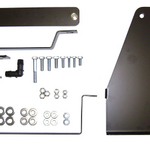 PUREJEEP JK Evaporative Canister Relocation Skid

The PUREJEEP Evaporative Canister Relocation Skid is designed to move the plastic fuel evap system canister over the rear axle and out of harms way.  Made from heavy-duty steel plate and powdercoated for corrosion resistance. This creates an extra bit of room that can be used for a muffler relocation or other suspension mod. All necessary hardware is included in the kit. Conversion is 100% bolt-on.
Part# PJ1070
Price: $119.95
PUREJEEP Evaporative Canister Relocation Skid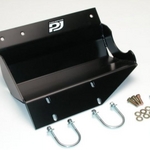 PUREJEEP Electronic Sway Bar Disconnect Skid

The newest addition to the PJ skidplate line! This precision formed, 3/16″ skidplate, protects the complete electronic engaging factory swaybar unit on the Jeep JK. Skidplate works in conjunction with all Hanson and PUREJEEP front bumper options. Part ships finished in semi-gloss black powdercoat with complete hardware and installation instructions. Cheap insurance for crawling with your JK!
Part# PJ1080
Price: $109.95
PUREJEEP Electronic Sway Bar Disconnect Skid