Replacing your factory air cleaner assembly with a high performance cold air intake is one of the easiest mods that you can do to your Jeep JK Wrangler and it's one that will give your engine a much welcomed boost in horsepower.  And, with the release of the great looking and quality built PUREJEEP JK Cold Air Intake System, you can now do this mod on a modest budget.  Check out the official PUREJEEP press release just issued today:
A BREATH OF FRESH COLD AIR
PUREJEEP, your new choice for Jeep® parts and accessories now offers a cold air intake system for the 2007 Jeep® Wrangler JK with 3.8-L V6 engine. The PUREJEEP JK cold air intake system is designed to provide your JK a cooler and cleaner charge of air for maximum performance gains. This is due to the fact that cooler air is, the denser it is. The denser the air is entering the engine the more fuel the engine management system can deliver to the engine. The result is more power for you to enjoy while driving your Jeep® JK. (Note: The estimated gain is 5 to 7 horsepower.)

The PUREJEEP JK cold air intake is a simple bolt-in upgrade that fits the JK without drilling or cutting. Simply remove your stock air box and intake hose and install the PUREJEEP JK cold air intake system in its place. In under an hour you can be enjoying the added power and acceleration a PUREJEEP cold air intake system provides on road and trail. 

The washable, reusable, air filter flows more air than stock and cleans the air better too. In addition, the PUREJEEP cold air intake is designed to allow the under hood power center to be opened for service without the need to remove the new air intake system. This means easy service at home or on the trail.

You'll find the added power of a PUREJEEP cold air intake useful whether you're onto rock crawling, easy weekend trips with the family, or just use your Jeep for commuting.

A PUREJEEP cold air intake is the perfect upgrade to improve power and drivability of  your new JK Wrangler. Available in black powder coated finish only. NOTE: this item is not C.A.R.B. Certified.

PUREJEEP Cold Air Intake for the Jeep® Wrangler JK with 3.8-L V6
Part # PJ9000 Price $199.95

For more information, contact:

PUREJEEP
6901-F District Blvd.,
Bakersfield, CA 93313.
661-304-0360
http://www.purejeep.com/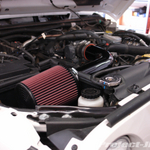 Now, I should tell you that I have been fortunate enough to have had the PUREJEEP JK Cold Air Intake System on my Jeep JK Wrangler for about two months now for testing purposes and can tell you that I absolutely love it.  While I haven't had a chance to test my Jeep on a dyno, I can say that I definitely feel a slight gain in horse power but I can't say for sure how much.  Regarding increases in MPG, that too is hard to say for sure as I am currently running 35″ tires with 5.13 gears and my speedometer is still off a bit.  I'll have to do more testing and get back to you on both of these at a later date.  I can however say that this thing sounds fantastic when you're stepping on the gas and unlike some CAI's I've seen out there, the PUREJEEP JK Cold Air Intake does not whistle!
Anyway, if you'd like to see more pics of the PUREJEEP JK Cold Air Intake System, simply click on the banner above or the link below:
PUREJEEP JK Cold Air Intake System Pics
Eddie
FYI: The PUREJEEP Jeep JK Wrangler Cold Air Intake System can now be purchased from Northridge4x4 and Quadratec.