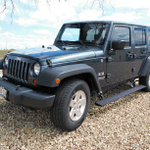 Bestop announces the release of the brand new PowerBoard for the 2007-2010 JK Unlimited (Part Number – 75122-15). This electrically powered running board extends down automatically when a door opens and retracts up when the door closes. This works for both front and rear doors. Get a boost without all the bother of a low hanging step!
Bestop PowerBoards are manufactured to not only meet but exceed stringent OEM standards including:
• Corrosion Testing – over 1000 hours of pressurized salt spray testing which roughly equals to over 5 years of driving in constant coastal conditions. This means your PowerBoard will last through anything you throw at – sun, sand, snow, slush, dirt or mud
• Cycle Testing – Linkages and motors are brutally tested without stopping for up to 25,000 cycles, which equals to about 5 years of daily use.
• Load testing – PowerBoards are tested to destruction and succeed well above the 600 pound load rating.
All testing results in the PowerBoard being tested to failure – therefore giving you a product that can outlast the truck itself.
PowerBoards are manufactured from the highest quality materials out there today. These materials include:
• High strength aluminum die-cast linkages
• OEM certified heavy duty wiring harness that features weatherproof connectors
• Integrated, weatherproof LED lightkit illuminates board and ground below for easier access in and out of your JK Unlimited
• 6.25 inch wide aluminum extruded running board with ultra durable textured powder coat board for a sure footed, non-slip surface
The PowerBoard for the JK Unlimited is a must have product for anyone looking for that extra boost to get into their vehicle. Bestop is running a $100 Cash Back on ALL Bestop PowerBoards including the JK Unlimited application now through October 31, 2010. Visit: www.Bestop.com/Rebate for complete rebate details.