Making it's official debut at Off-Road Expo 2007, the new Expedition One Trail Series Jeep JK Wrangler Rear Bumper and Smooth Motion STC System is without a doubt one of the most unique and well designed bumper and spare tire carrier setups on the market today.
Constructed out of 3/16'Ä? sheet steel, the Expedition One Trail Series¬†Rear Bumper¬†comes standard with 1'Ä? thick ¬ĺ" recovery shackle mounts, is designed for use with the factory hitch and¬†has¬†side wings¬†that¬†have¬†a boxed-in reinforced structure to help handle impacts when dropping of ledges or rocks.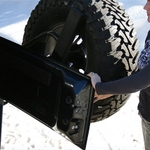 The Expedition One Smooth Motion STC System is based on the same innovative design that was pioneered on the Jeep TJ Wrangler.¬†¬†Specifically, Expedition One set out to create a tire carrier that would be able to carry up to a 40″ spare tire but was just as easy to use as the factory tailgate mounted setup.¬† And, the only way to do this was to integrate the tire carrier directly into the factory tailgate.¬† The integration of the two would provide much needed reinforcement for the significant added weight of a larger spare tire but would also allow users to open up the tailgate with a simple push of a button as normal.¬†¬†And, after spending over¬†a year¬†doing extensive research and development working with longtime off-road fabricators and¬†hardcore enthusiasts, Expedition¬†One was able to¬†created the the¬†ultimate swing-out tire carrier that combines strength, style and functionality all in one – the Smooth Motion STC System.
Designed with¬†a monsterous 3.25″ outter diameter hub¬†assembly that uses tapered roller bearings and a spindle that carries a 1.75″ I.D. for the lower bearing hub,¬†the Expedition One Smooth Motion STC System allows for adjustment to the carrier to maintain a sustained rattle free system and also giving the carrier its smooth swinging motion.¬†Available with a¬†standard integrated CB antenna mount, the Smooth Motion STC System¬†will also be available with¬†jerry can mount w/ Expedition One Geri TM Cans (design¬†patents and utility patents pending),¬†Hi-lift Jack mount and center 3rd brake light.
Expedition One is currently taking orders and customers can expect to see a lead time of about 4 to 6 weeks right now.  Pricing for both the bumper and carrier system and powder coated is only $1199.95.  If you would like to see more photos of the Trail Series Rear Bumper or Smooth Motion STC System, simply click on the link below:

Expedition One Product Pics

If you have any questions regarding this or any of Expedition One's products, you can visit their website at: http://www.expeditionone.biz or you can contact them directly by email at: info@Expeditionone.biz or by phone at: (801) 726-4338.
Eddie