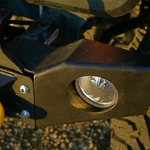 In an effort to make their well received and very popular Jeep JK Wrangler BASIC and BASIC DX bumper line even better, Expedition One has just announced that they will now offer modular Side Wings that are easy to install and will allow you to retain your factory fog lights!
Constructed out of 3/16'Ä? sheet steel and available in a textured black powder coat or bare steel, the¬†Expedition One Jeep JK Wrangler¬†BASIC Side Wings come with integrated fog light ports that will allow you to¬†mount OEM fog lights to them.¬† While the¬†Side Wings are designed with tapered ends to¬†provide high clearance, they can also be¬†detached with ease simply by removing the two 19mm bolts securing¬†each wing to the BASIC or BASIC DX bumper.¬†¬†With the¬†Side Wings removed, you will have maximum approach angles for¬†all your hardcore outings.¬†And, being that the¬†Side Wing¬†bolts are the same size as your¬†factory¬†lug nuts, no special tools will be¬†required to remove them as the JK lug wrench in your rear storage compartment will do the job just fine.
Expedition One is currently taking orders for the Side Wings and they will be priced accordingly:
Basic Side Wings: $159.99
Basic w/Side Wings:  $349.95
Basic DX w/Side Wings:  $449.95
Bare steel pricing will be available soon and all orders should start shipping in about 3 weeks.  To see more Expedition One Jeep JK Wrangler BASIC and BASIC DX Modular Bumper photos, click on the photo above or on the link below:
Expedition One Product Pics

If you have any questions regarding this or any of Expedition One's products, you can visit their website at: http://www.expeditionone.biz or you can contact them directly by email at: info@Expeditionone.biz or by phone at: (801) 726-4338.
Eddie