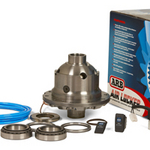 To meet the demand of off-roaders looking to strengthen their current axles without going to the expense and weight penalties of a larger axle assembly, ARB has just released the latest model in their Performance Air Locker Series. Designed for the new 2007 and newer Jeep Wrangler JK Rubicon Dana 44 housings, this new performance ARB Air Locker allows users to gain the axle strength they need from larger aftermarket 35 spline shafts and still retain their smaller, lighter Dana 44 assemblies.
Referred to as ARB part number RD157, this new Air Locker is designed to be installed with aftermarket 35 spline axle shafts which improve the torque range by about 30% over the stock 32 spline shafts that come installed in the JK Rubicon Dana 44. As with other ARB Air Locker models, the RD157 features ARB's patented "timed" locking mechanism that optimizes the Air Locker's internal gear mesh in the locked configuration and increases the unlocking speed all at the touch of a dash mounted switch. Complete with the proven steel reinforced, elastomer bonded annular seal, this Air Locker is designed to handle the most extreme climatic temperatures on earth.
Using the very latest in parametric solid modeling systems and analysis packages, ARB's engineering team was able to perform comprehensive, live and virtual testing to develop a most impressive final product. The 35 spline, JK Wrangler Rubicon Dana 44 Air Locker is available through any ARB retailer by ordering ARB part number RD157.
Retail – $984.94
Note: Aftermarket 35 spline shafts required, will work with JK Rubicon Dana 44 housings ONLY, will work with JK Rubicon Dana 44 gears ONLY.
For more information regarding the ARB Jeep JK Wrangler 35 Spline Air Locker, please visit the ARB website at: http://www.arbusa.com