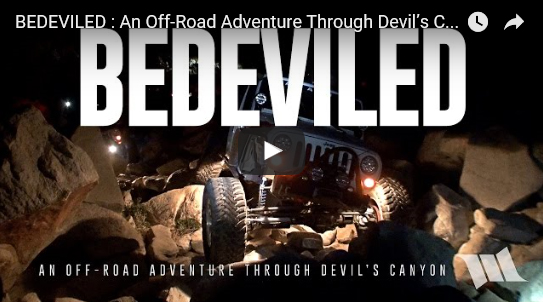 Back in the mid-1800's, a stage route was established across the Jacumba Mountains which are located along the Mexican border and just south of the Anza Borrego Desert State Park. Its purpose was to connect the growing towns of San Diego, California and Yuma, Arizona and while improvements were made to help accommodate the very first automobiles back in the early 1900's, the route was abandoned after the completion of U.S. Highway 80 and the subsequent Interstate 8. Thanks to a major storm in the 1970's, a portion of the route that cut through Devil's Canyon was washed away and for the most part, all but lost to history.
Cindy and I first heard about Devil's Canyon about 10 years ago after reading about a few guys who went looking for this old stage route and to see if it could still be run. Soon after its rediscovery, it became one of the hottest trails to run in the San Diego and Imperial County area and because of it, the BLM quickly shut it down as the area was home to endangered Big Horn Sheep. Since that time, we had all but forgotten about this trail but after getting recent word that people were running it again and legally, we knew it was something we had to look into.
After doing some research, I found that the BLM was in fact allowing LIMITED access to Devil's Canyon but ONLY WITH A PERMIT. And, what I can tell you is that unless you're planning to run this trail with Tierra del Sol or another club that has access to it, you might as well still consider this trail to be CLOSED! Not only do you have to apply for a $100 permit 180 days in advance, you are only allowed to run the trail on one of seven Saturday's between October 1st and April 30th and it cannot be on a Saturday following a previous run. In addition to that, you are limited in the amount of vehicles that can participate, you will need to fill out a 27 page application that requires you to include plans for medical emergencies and evacuation routes which, really is all fair and reasonable enough but, what will ultimately stump most people and almost stumped us as well is the proof of liability insurance the BLM requires for $500,000 per occurrence and a $1,000,000 aggregate! I should note that just about every insurance company I called with the hopes of obtaining a one day policy like this laughed at me and told me that the BLM is effectively telling people that they don't want anyone on the trail! 7 months after I had applied for our permit and with any hopes of getting an an insurance policy starting to run out, Off Road Evolution stepped up to the plate and offered to let us ride on their policy. Needless to say, a BIG THANK YOU needs to go out to them for making this run and this film possible.
Unfortunately for us, by the time we got everything in order, the only Saturday left for us to run the trail was the last one of April. Needless to say, summer was already in full force down in the Yuha Desert and daytime temps were already well within the triple digits. Also, our 2007 Jeep JK Wrangler known as Moby was out of commission and so we would have to run it in our newer 2012 JK known as Rubicat. While this wouldn't normally be a problem, it had a blown power steering pump and we wouldn't be able to get a replacement until after the run. Of course, being that this was the only chance we might ever have at running this amazing trail, Cindy and I decided we needed to just do it regardless of having to do it handicapped.
Along for the ride on this epic trek, we had Doug, his daughter Jessa, her boyfriend Jim, Moochie, Don, Et, Tony, Stephanie, Derek, Ray, his son Kevin and tagging along as a support photographer, we had our friends Dave and Laura joining us as well. In all, we had a total of 8 Jeep JK Wrangler in our group and most of which were just running 37″ tires. As far as lift kits go, a few in our group were running EVO Bolt-On coil overs, a couple had EVO DTD with EVO Levers and one was running a Full-Traction long arm kit. Aside from Doug who was running Dyantrac ProRock 60's front and rear, just about everyone else was running factory axles. Essentially, we were just a group of regular people in moderate to semi-well built rigs.
The Devil's Canyon trail is approximately 3 miles long and roughly parallels the westbound lanes of Interstate 8. If you run the trail east to west like we did, it's an uphill climb to the top, over large granite boulders more bodacious than Kim Kardashian's ass and with deep soft sand in between just to kick things up a notch. While it did ultimately take us 15 hours to run and required us to do some unintended night wheeling, it should be noted that EVERYONE in our group was encouraged to take on ALL the biggest obstacles and be individually filmed doing it as well. This slowed thing down for us tremendously and we really need to thank all our friends for their patience and understanding for what we were trying to do. If this was the only time we would ever get to run this trail, we wanted to make sure we documented everything as carefully as possible and we hope that you enjoy this film we made from it.
Ladies and gentlemen… BEDEVILED!
WAYALIFE EPIC TREX ADVENTURES are off-road films created by Cindy and I. We have been responsible for producing the JK-Experience (also known as the JKX) video series "KEEP IT TIGHT" which was made in 2011, the 2012 series "HEARTLAND", the 2013 series "WILD WILD WEST" and the 2014 "PACIFIC NORTHWEST". Our films are produced and paid for entirely by us and we receive absolutely NO funding from manufacturers or vendors to help subsidize our work.