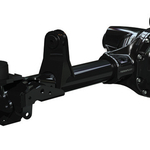 TeraFlex Inc., manufacturer of TeraFlex suspensions, body protection equipment, low range gearing and HD axles, introduces the newest heavy duty component for the JK Wrangler.
The TeraFlex Tera44 heavy duty front Dana 44 replacement axle is the perfect solution for bent, broken or damaged front axles in JK Wrangler Rubicon vehicles. This replacement axle can also be used to build a heavy duty axle upgrade for non-Rubicon JKs.
The replacement housing includes a heavy duty Tera44 housing, tubes, inner seals, axle bracketry, and outer knuckles. Simply transfer your existing internal components, outer knuckle assembly, and brakes to the new housing!
The Tera44 has the following features:
• Ductile cast iron housing with increased rib gussets
• Smooth radius bottom design to glide over rocks & obstacles
• Asymmetric housing design, for long tube side strength
• Bottom oil drain hole for simple fluid changes
• Integrated factory location upper control arm mount
• 3.25" x 0.25" axle tube to resist bending and torsion with minimal weight increase
• ¼" thick CNC laser cut axle brackets for extreme strength
• Compatible with factory JK Rubicon locker
• 100% engineered, designed, and built in the USA
• 100% new components
• No Excuses warranty – 1 year, unlimited mileage
The TeraFlex JK Front Replacement Axle Housing has a retail price of $2049.99
TeraFlex products are available direct, or through authorized TeraFlex Dealers. For a complete list of Dealers in your area, or to purchase direct, contact TeraFlex at 801-288-2585 or visit them on the web, www.teraflex.biz.