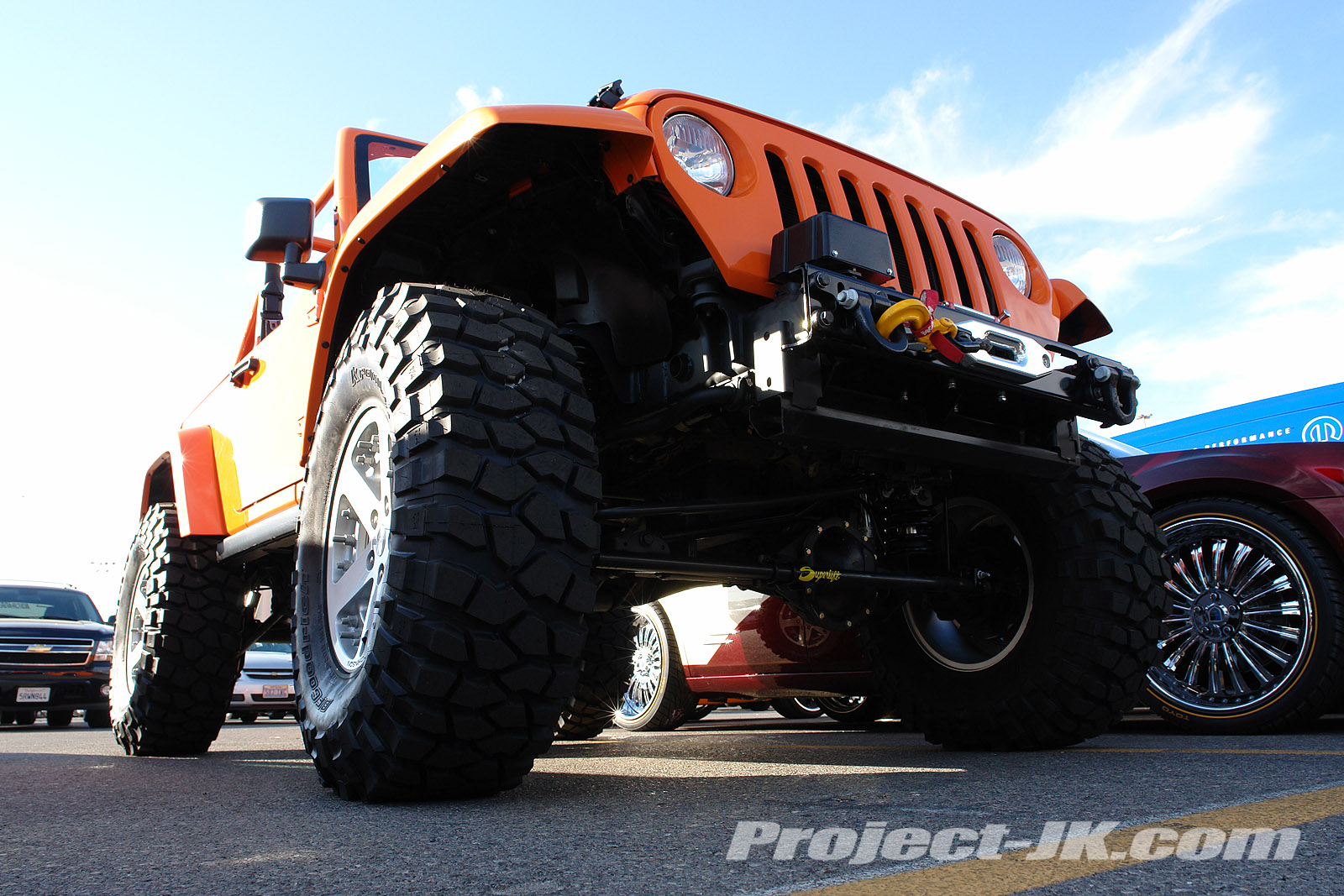 Being that this is a Throwback Thursday and a day that MOPAR just released a whole bunch of new concept Jeeps, I thought it would be fun to venture back to ta time long ago. A time way before MOPAR was releasing ultra-high end shiny JK's during the Moab Easter Jeep Safari and the Jeep design team known as Skunkwerks (later known as The Underground) used to make concept vehicles that were more modest in scale and attainable to all. Of course, the one I remember the most and with fond memories was the very first JK concept that they brought out to the 2006 SEMA show and it was a gorgeous 2-Door called, the Orange Crush!
At a time when the JK was still hard to come by and with most people waiting for the delivery of theirs, ones they ordered 6 months or more before – the Orange Crush was the epitome of simplicity and with DIY elements that Cindy and I wanted to emulate. Or at least, once we got our hands on our JK. In addition to having a Superlift 4″ lift, Hutchinson beadlock wheels, BFGoodrich 37″ Krawler Tires, an AEV Heat-Reduction Hood and AEV Rear Corner Guards, this would be the first time that we saw trimmed factory fender flares. Granted, they were nothing quite like we've got on our JK's now but it gave us the idea that it could be done! The other thing that caught our eye was the extreme simplicity of the military style winch mount being used as a bumper. Back then and even now, everyone had the idea that big full width bumpers were all the rage but this gave us the idea of eventually running just a PUREJEEP winch plate and hoop and it later became known as their BareBonez bumper.
Anyway, click on the link below to see more shots of this awesome JK back when it was released at SEMA 2006.
ORANGE CRUSH – The MOPAR SKUNKWERKS 2-Door JK Wrangler that Started it All