In addition to its spectacular beauty and rich history, there is a reason why the Rubicon is legendary and considered to be the Mecca of all Jeep trails.  Without a doubt, the Rubicon is by far one of the most challenging and demanding 17 miles of trail that you can possibly run.  The countless boulders, ledges, trees, water crossings, mud, tippy rock faces and tight squeezes that you encounter along its entire length are relentless and determined to break you down both mentally and physically. Certainly, the Rubicon is not a trail for the faint of heart or the squimish as breakdowns, rollovers and body damage is the norm and is to be expected.  And, if you're feeling the call that all Jeepers feel deep inside their hearts of running the Rubicon someday, I would highly recommend that you do it with the Jeepers Jamboree.
Truly, the "Granddaddy" of all Jeep events, the Jeepers Jamboree is in fact the oldest, toughest and largest of it's kind and has a reputation that is known throughout the world. Started in 1952 as a way to boost the economy in the Georgetown Divide area, the Jeepers Jamboree has become an iconic annual event that is attended by hundreds of Jeeps of all model styles and levels of modification. While there is a registration fee that you will need to pay in order to attend this epic event, I have found it to be a very small price to pay for everything that you get for it including the exclusive use of the trail, three delicious meals a day, entry into some awesome giveaways, live music entertainment and dancing.  However, in my opinion, the biggest perk you will get from attending the Jeepers Jamboree is having scores of experienced spotters stationed along the length of the trail who make it their purpose to help guide you safely through all the toughest obstacles.  And, if you are unfortunate enough to suffer a breakdown, there are dozens of experienced mechanics at two repair stations, one of which is located at Buck Island Lake and the other at Rubicon Springs.  These mechanics will help provide any trail fixes that you might need without any cost to you except for parts that might be needed but a small donation is always appreciated.  Of course, the experience of being a part of this amazing event is something that is simply priceless.
Now, in spite of all the years that I have been wheeling and even wheeling up in the Lake Tahoe area, I'll have to be honest and tell you that up until now… I'd never had a chance to run the Rubicon Trail.  As much as I had always wanted to, every year there was always another reason why I couldn't but as luck would have it, the opportunity to attend this year's 56th Annual Jeepers Jamboree presented itself and my wife Cindy and I jumped on it.  And, fortunately for us, we wouldn't have to go alone as we would later find out that our good friends Liz (DizzyLiz), her husband Sean, Chip (kidjeep) and his wife Kristen would all be joining us and would be their first time on the Rubicon as well.
On the day of our trip, Cindy and I we met up with our friends just before dawn at the Loon Lake staging area, aired down our tires, grabbed some coffee and breakfast and then picked up a boxed lunch that was waiting for us at the trailhead.  Being that the Jeepers Jamboree is a "go at your own pace" kind of run, there was no line up we needed to get into or trailboss leading a group, so once we were all situated, I took the lead and we all made our way over to the Gatekeeper.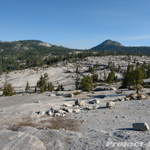 From what I've been told, the Gatekeeper has been modified a bit and isn't nearly as tough as it used to be and based on what I've read about it, it wasn't.  However, make no mistake, this first length of trail is still very much a challenge and a ton of fun.  As is the case with most of the trail, there are options that you can take along the way that will make things easier for you or virtually impossible depending on how built up your Jeep is.  Beyond the Gatekeeper, we decided to make an extended stop at the Granite Bowl to take in the breathtaking views and to try and find our route across.  Although the trail is marked with reflectors that are attached to the granite and a few signs attached to trees that have managed to poke through cracks in the rocky face, they can both be difficult to spot and negotiating your way across the bowl can be a bit tricky.  Fortunately for us, the Jeepers Jamboree made special effort to mark off the way with rocks carins, ribbons and even spotters positioned along the way to help point us in the right direction.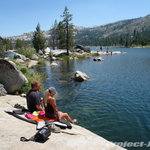 Beyond the Granite Bowl, we were met with an endless string of difficult rock challenges and tippy ledges that needed to be climbed and descended.  These obstacles hammered on our skidplates, bumpers and rocker guards and continuously pushed our suspension to the limits. Did I mention how nice it was to have experienced spotters all along the way?  Of course, I suppose things might have been a bit easier for me if it weren't for the fact that Cindy kept asking these guys to take me up hardest lines so that she could get some good shots.  Anyway, slowly but surely, we kept this up until we reached Buck Island Lake where we kicked off our shoes, cooled off in the waters and had the pleasure of meeting up with Dan DeWolf, Director of the Jeepers Jamboree, who flew in by helicopter if you can believe it.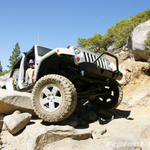 Rested up and ready for the trail again, we hopped back in our Jeeps and continued to make our way to Rubicon Springs on some of the most challenging sections of trail we had enountered yet including the extremely tight, technical and tippy Big Sluice.  And, if you can believe it, just as we were nearing camp and feeling pretty good about things, I made the stupid mistake of turning off the historic Rubicon Bridge just a bit early and for the very first time all day, I found myself holding on tight as I almost rolled my Jeep in one of the most unlikely place – oh the shame!!
While the Jeepers Jamboree does have a four day trip which leaves on a Thursday, everyone in our group could only make it to the three day trip which leaves the day after and as you can probably guess, by the time we rolled into Rubicon Springs, every good camp spot was already taken.  In fact, the entire area looked something close to what I would imagine a refugee camp in a war torn country would look like except, instead of hearing bombs in the distant and seeing blank stares from starving childeren with soot covered sallow faces, we heard music blasting from radios and saw hundreds of people dancing around, drinking beer and having a great time.  Truly, for at least one weekend every year, the isolated and tranquil Rubicon Springs is transformed into nothing short of a mystical mega party up in the woods.
After setting up our tents along the edge of camp, we set off for the heart of Rubicon Springs trudging our way on foot through a canopy of trees, sticky mud and throngs of people partying everywhere.  Within a few hundred feet, we could start to see the wide and glassy Rubicon River flowing quietly along the road we were on and as the forest opened up, we came across an old cabin and a large open grassy area where a bonfire was being built, a full bar was serving up drinks, an ice-cream stand was providing cool treats, a kitchen area was barbecuing pork for dinner and a band was setting up on a stage nearby.  Soon after dinner, the bonfire was set ablaze and the band started to rock and continued to do so well into the night.
If you've never attended the Jeepers Jamboree, you need not worry about setting your alarm clock or concern yourself about sleeping in late.  Whether you partied until 2:00 AM the night before or have a killer hangover that you're trying to sleep off, the fine folks from the Jeepers Jamboree have a wakeup call that'll snap even the deepest sleepers right awake and right at the crack of dawn, guaranteed.  Following a wonderful hot biscuits and gravy breakfast, we walked over to the main open area and checked out some of the cool rigs and products that were on display by manufacturers and vendors who sponsor the Jeepers Jamboree.  Soon after breakfast and the show, we did see a lot of other folks taking off on foot to do some fishing or in their Jeeps to do wheeling in the area but we decided to spend the rest of the day relaxing down by the river, soaking in the sun and refreshing ourselves with some cold beers.  Granted, I did take some time out of my relaxing to utilize the repair station in camp to make some minor trail fixes but that was pretty much the extent of my work for the day.
I think it was the last night of the Jeepers Jamboree when I realized that I was finally losing my mind.  At least, as soon as the sun started to go down, I started to hear the soundtrack from the Wizard of Oz permeating from the trees and just as the bonfire was about to be ignited, a whole host of characters from the Wizard of Oz emerged from the forest.  In all, I think I saw at least two different naughty Dorthy's, a Dorthy that really needed a shave, an elaborate Lion, a Tinman and Scarecrow and even a host of munchkins complete with lollipops.  Of course, these people were all part of a club and other clubs came out wearing other costumes as well.  As was the case the night before, the party atmosphere all around us was simply electric and before the band could start rockin, the Jeepers Jamboree took some time to kick things into action by announcing all the big prize winners of their giveaways.
The following morning, our earth shattering wakeup call came in a half hour early but our group had already been a awake for the better part of an hour packing up our gear.  Even though there was really only one major section of trail left to run, Cadillac Hill, we had been hearing Jeeps leaving Rubicon Springs all night long and a few of us were eager to get in the line-up before it got overwhelmed with Jeeps.  And, even though we skipped breakfast and got on the trail by 5:30 AM, we still found ourselves stuck in bumper to bumper traffic about half way up the hill.  A lot of the waiting we had to do was caused by a U-Joint break on a rig just past the V-notch but even after it was fixed and on its way again, the trail was a challenge and lined up with hundreds of Jeep and so it was slow going and very dusty all the way out.  In all, I think it took us close to three hours to reach the end of the trail and in hindsight, I think I would just take my time the next time around and leave later on in the day.  From what I understand, it wouldn't have taken us any longer to go later and we would have been able to have a nice hot breakfast and lunch as well.
After running the Rubicon Trail for the very first time, I can tell you that it really is everything that it's cracked up to be.  In fact, some of the guys that I know who have been running this trail for about 10 years were telling me that it's been getting progressively harder to do every year even with all the rock stacking done by the Jeepers Jamboree trail crew.  As far as how the Jeep JK Wranglers performed on the Rubicon goes, everyone in our group had an Unlimited and I can tell you that nobody had any problems what so ever.  While a 2-Door might of had an easier time negotiating some of the really tight sections on the trail such as the Big Sluice, our much longer 4-Door Unlimited's still managed to get through just fine – just maybe a little slower.  Granted, I wouldn't recommend doing the Rubicon in a stock JK, Chip did prove that it could be done in a Sahara with as little as a 2.5″ TeraFlex Budget Boost, 1″ Body Lift, 35″ Toyo M/T's, rear locker and rocker guards.  And, as I mentioned before, if you're planning to run this trail in the future, I would strongly recommend that you do it with the Jeepers Jamboree as they will do their best to keep you safe and help you to have a great time.
If you would like to see photos from our trip across the Rubicon Trail and from the 56th Annual Jeepers Jamboree, please click on the banner above or on the link below:
Project-JK Jeepers Jamboree 2008 Photo Gallery
We are working on a YouTube video of our trip now and hope to have it available to see as soon as possible.  Please check back soon as it will be published here once it is.
Eddie 
Special Thanks:  I would like to give special thanks to Dan DeWolf for making our very first trip across the Rubicon Trail and adventure with the 56th Annual Jeepers Jamboree one that we'll remember forever.  You guys and gals really do an amazing job. I would also like to thank Liz for helping us out by taking so many of the photographs that you seen in our gallery and for allow us to use them here.