Even though Bestop had already unveiled their new line of products for the Jeep JK Wrangler a couple of weeks before the 2006 SEMA Show, this was the first time I had a chance to physically check them out for myself and give them a thorough once over. And, I should say that I was really quite impressed by what I saw.
Included in Bestop's line-up were the kinds of things I had expected to see like your standard Bikini Top, Windjammer and Duster Cover, but much to my surprise, they also had things like their new electric AMP Research Power Steps, very cool Element Door System, front and rear Highrock 4×4 bumpers, a sweet 2-piece hard top, overhead console and a well needed trunk on display as well. Basically, everything a Jeeper could want and/or would need for their brand new Jeep JK Wrangler.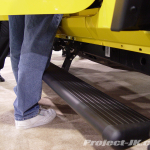 Of all the new Bestop products I saw at SEMA 2006, I'd have to say that the AMP Research Power Steps were by far the most interesting. Now, I know they aren't for everyone, but for those people who are looking for the convenience of having side steps to help them get into their Jeep JK Wrangler but are unwilling to install a set in fear they might sacrifice ground clearance or hang up on the trail, the all new AMP Research Power Step by Bestop is exactly what you've been looking for. With the doors of your Jeep closed, the AMP Research Power Steps hug the rocker panels tightly and look a lot like rock rails or sliders. However, when a door is opened, the Power Steps automatically extend down and out providing a full length running board type side step that will assist you and your passengers in and out of your Jeep. And of course, once the doors are closed again, the Power Steps automatically retract up and in up against the sides of your Jeep. Installation of the Power Steps is easy and uses pre-existing holes on your Jeep so no drilling is required. Pricing and availability of the AMP Research Power Steps will most likely be available towards the end of December.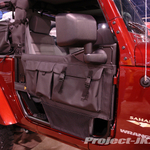 Without a doubt, one of the coolest products Bestop had introduced at SEMA 2006 was their new Jeep JK Wrangler Highrock 4×4 Element Door System. These awesome new tube doors look great, are made out of heavy duty 1-1/4″ tube, have a convenient step which can support up to 250 lbs. when the doors are closed, have mirror mounts that can accept factory JK mirrors or TJ mirrors, are easy to install, requires no drilling  and comes complete with Sport Pockets that have multiple storage bags in various sizes and can be installed inside or out. And, from what I've been told, the Highrock 4×4 Element Doors will also be available with optional color matched steel door skins that give these tube doors a factory half door look. If you'd like to get your hands on a set of Highrock 4×4 Element Doors, they are expected to retail for about $380 and should be available for purchase by the end of December.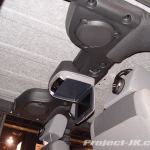 Another great product that Bestop was featuring at SEMA 2006 was their all new Jeep JK Wrangler Unlimited 2-Piece Hard Top. Unlike the factory Freedom Top you could have gotten directly from Jeep, the Bestop Hard Top is significantly thicker and quieter thanks to an interior surface that is lined with a charcoal colored felt material. Other great features worth mentioning about the Bestop Hard Top include its built-in roof racks that can be used to store the front panel section when opened, a handy cubby tray above the front passenger seat, auxiliary switches for use with aftermarket roof lights and a rear window defogger. Add in the new Bestop Rear Overhead Console with Audiovox DVD Player and built-in wireless headphones and you've now got a rugged Jeep with all the creature comforts of a luxury SUV. The Bestop 2-Piece Hard Top retails for about $2400 and is available for purchase now.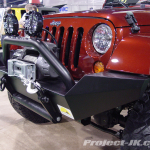 Last but not least in my Best of Bestop List would be the new Highrock 4×4 Front and Rear Bumper System. Designed for the true rock crawler, the Highrock 4×4 Bumpers are made out of a heavy gauge steel, have tapered ends to allow for greater approach and departure angles and are finished with a rust preventing E-Coat and durable black powder coat finish. Sold "a la carte", the Highrock 4×4 Bumpers can also be ordered with a stainless steel or a black finished grill guard hoop as well as an approach/departure roller designed to help get your Jeep up and over obstacles. And for those of you in need of a way to carry an oversized spare tire, Bestop now makes a Highrock 4×4 Spare Tire Carrier Mount that mounts directly to your Jeep's tailgate and can carry up to a 35″ tire. The Bestop Highrock Front Bumper is expected to retail for about $600 by itself and the rear bumper for about $700. Options such as the grill guard hoop should retail for about $120 and the approach/departure roller for about $90.
All these products can be purchased at any one of our sponsoring vendors, or at least you should be able to by the end of the year. Be sure to check back for new Bestop product releases and/or product availability.
Eddie