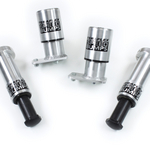 TeraFlex SpeedBumps are an innovative composite bumpstop system designed for high-speed, high-performance JK Wrangler applications. The maintenance free, performance tuned microcellular polyurethane technology provides a simple installation with no further adjustment or tuning required for a lifetime of dedicated off road use.
TeraFlex SpeedBumps have the following features:
• JK Specific tuned for high speed performance
• Simple installation – no welding required
• Quiet movement & function (no pad-slap clunk)
• Absorbs large impact energy progressively during compression to prevent bent axle tubes
• Maintenance free, all-composite construction
• Resistant to all types of conditions (mud, salt, sand, dust, etc.)
• Compatible with all suspension systems that retain factory axle & spring mounting locations
• High compression rate with full memory rebound
• Engineered for maximum lifetime compression cycle\
• Unsurpassed dynamic performance
• Maximum low temperature flexibility reduces fatigue & premature failure in subzero conditions
• Patent Pending technology
TeraFlex SpeedBumps start at a suggested retail price of $409.99 a pair.
TeraFlex products are available direct, or through authorized TeraFlex Dealers. For a complete list of Dealers in your area, or to purchase direct, contact TeraFlex at 801-288-2585 or visit them on the web, www.teraflex.biz.