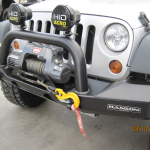 The new HANSON Euro Spec Bumper offers sleek, full-width protection for the front of your 2007-2010 JK. It incorporates the HANSON classic drop-center style winch seat and incorporates a wing design that matches the factory flare and provides maximum aero-slick tendencies.
Constructed of 3/16″ steel, this bumper uses material that is fully 50% thicker than similar styled bumpers. Factory fog lamps are retained while offering two heavy duty light tabs on the laid-back 3″ diameter tube over rider hoop for big off road lamps. 2 fully welded D-Ring tow points are standard on all HANSON Bumpers. Optional under rider lower skid plate is available either steel or aluminum.
This ALL USA MADE JK bumper from HANSON offers protection and style like no other.
Part # JKFL1502-P Euro Spec Front Winch Mount Bumper $899.95
Part # JKFSP JK Front Skid Plate $129.00