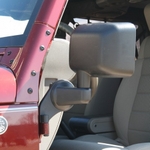 With summer around the corner, everyone is going to want to take their top and doors off of their Jeep and with that comes the question that all Jeepers have and that's, what do I do about my mirrors.  In addition to being extremely helpful, having a good mirror bracket solutions is necessary for Jeep JK Wrangler owners who want to operate their vehicles without doors and still remain legal.  Fortunately for us, Die-Tech Off-road has just release an evolutionary set of Jeep JK Wrangler doorless mirror brackets that really are a first of its kind.  In fact, their solution goes beyond the basic requirements needed and solves problems other solutions have including:
• Poor visibility
• Inefficient mirrors
• Vibration
One of the biggest biggest benefits of the Die-Tech Off-Road mirror brackets is that they re-use the stock mirrors and position them in their original location.  By using the stock mirrors, you can expect to have the same quality of vision, efficiency and function that you are accustomed too.   Additionally, you can be sure that you will benefit from the safety research that Chrysler LLC has done for the mirrors in their Jeep JK Wrangler application.
Die-Tech Off-Road mirror brackets features a hinge-mount design that uses the top door hinge for its mount.  However, it goes further than similar solutions by providing a bracing arm that fastens to an existing door hinge bolt.  By using this design, the Die-Tech Off-Road mirror brackets can eliminates the vibration caused by wind and the amplification of road vibration that other simple hinge-mount designs cannot offer.  To insure a quality finish and long lasting durability, all Die-Tech Off-Road mirror brackets are e-coated and powder-coated textured black.  
Die-Tech Off-Road mirror brackets made right here in the USA.  Patent pending.
For more information regarding Die-Tech Off-road and the products that they make, please visit their website at: www.dietechoffroad.com