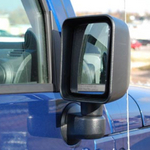 Bestop, adds JK Replacement Mirrors to its line up of HighRock 4×4 Replacement Mirrors. Made of shatter-proof and UV-resistant heavy duty plastic or cast aluminum (for Part number 51262-00 or 01) and sold in pairs, the mirrors replace worn or missing mirrors with OEM styling and features. The JK part numbers now join CJ, YJ and TJ models for further customization of your Jeep at a better price.
Bestop engineers have done their homework to fit the mirrors onto the other soft and hard door combinations of existing manufacturer's door lineups. Brackets also sold separately to adapt these factory replicas to mount on Bestop Half, Two-Piece and Element Doors. JK kits are available in textured black. TJ and YJ available in polished aluminum or textured black, CJ mirrors available in chrome or satin black finish. Mirror kits are sold in pairs and come complete with hardware.
Bestop's HighRock 4×4™ lineup is designed for serious off road adventures while still maintaining the "Fit.Function.Style" known for Bestop products.Go to www.Bestop.com for more information or call our Customer Service at 1-800-845-3567, 8-5pm coast to coast. Bestop – your one stop source for all things Jeep has well as Truck and UTV accessories– how will YOU Bestop?